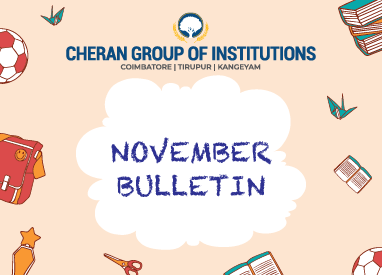 The Cheran Bulletin is a monthly periodical being brought out by the Cheran Group of Institutions.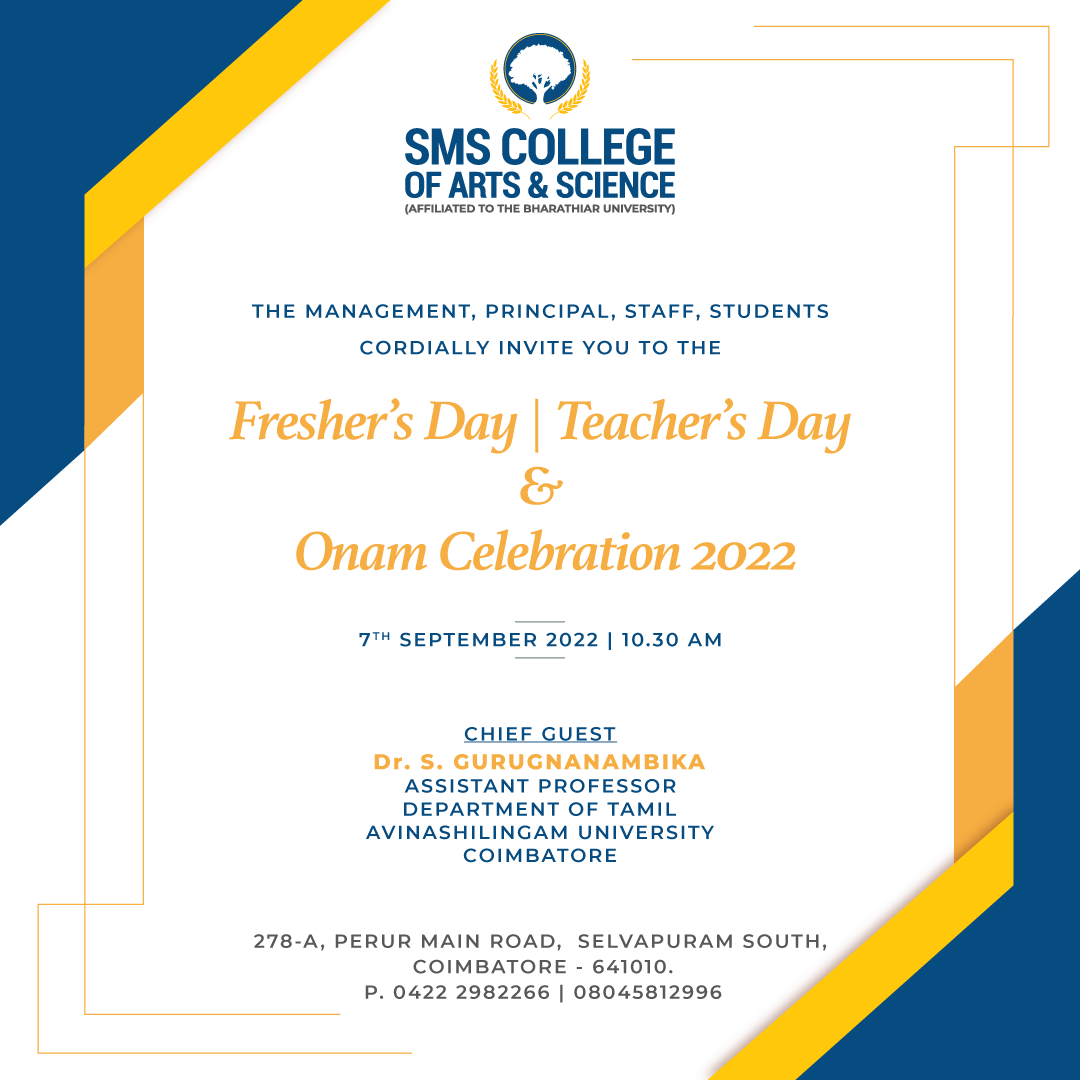 Onam, Teachers Day & Freshers Day Celebration
SMS College of Arts & Science, organised Fresher's Day, Teacher's Day & Onam Celebrations on 07th September 2022. It was filled with excitement, music and happiness. It is a day where seniors and juniors finally bond and unite to celebrate being part of the institute.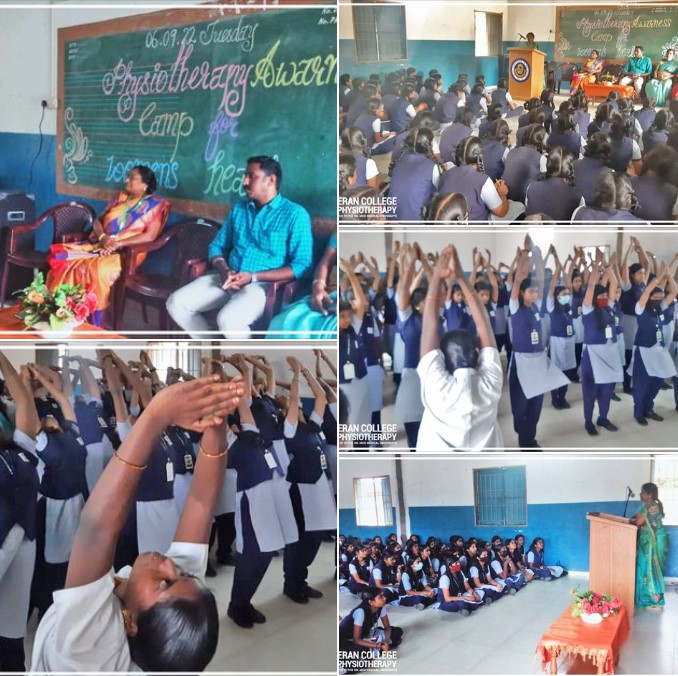 Health Awareness Program
On behalf of World Physiotherapy Day, our Physio team has given the health awareness program for school children on 6th September 2022 at MOTHER LAND MATRICULATION HIGHER SECONDARY SCHOOL, Coimbatore. Our physiotherapy faculties and final year students has taught exercise on preventing muscle cramp during the mensural time for the girl students from Class 8 to Class 12.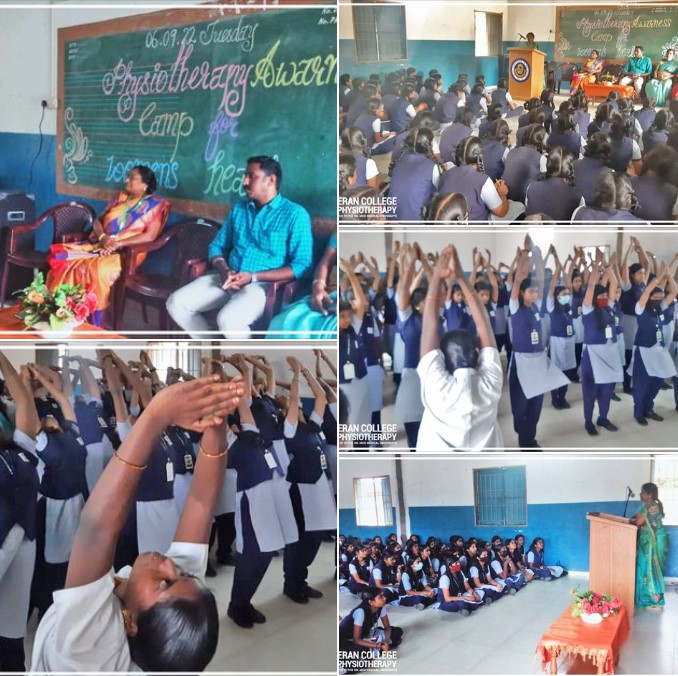 Motion Picture Club
SMS College of Arts and Science, on behalf of English Literary Association: Motion Picture Club on 05 Sepetember 2022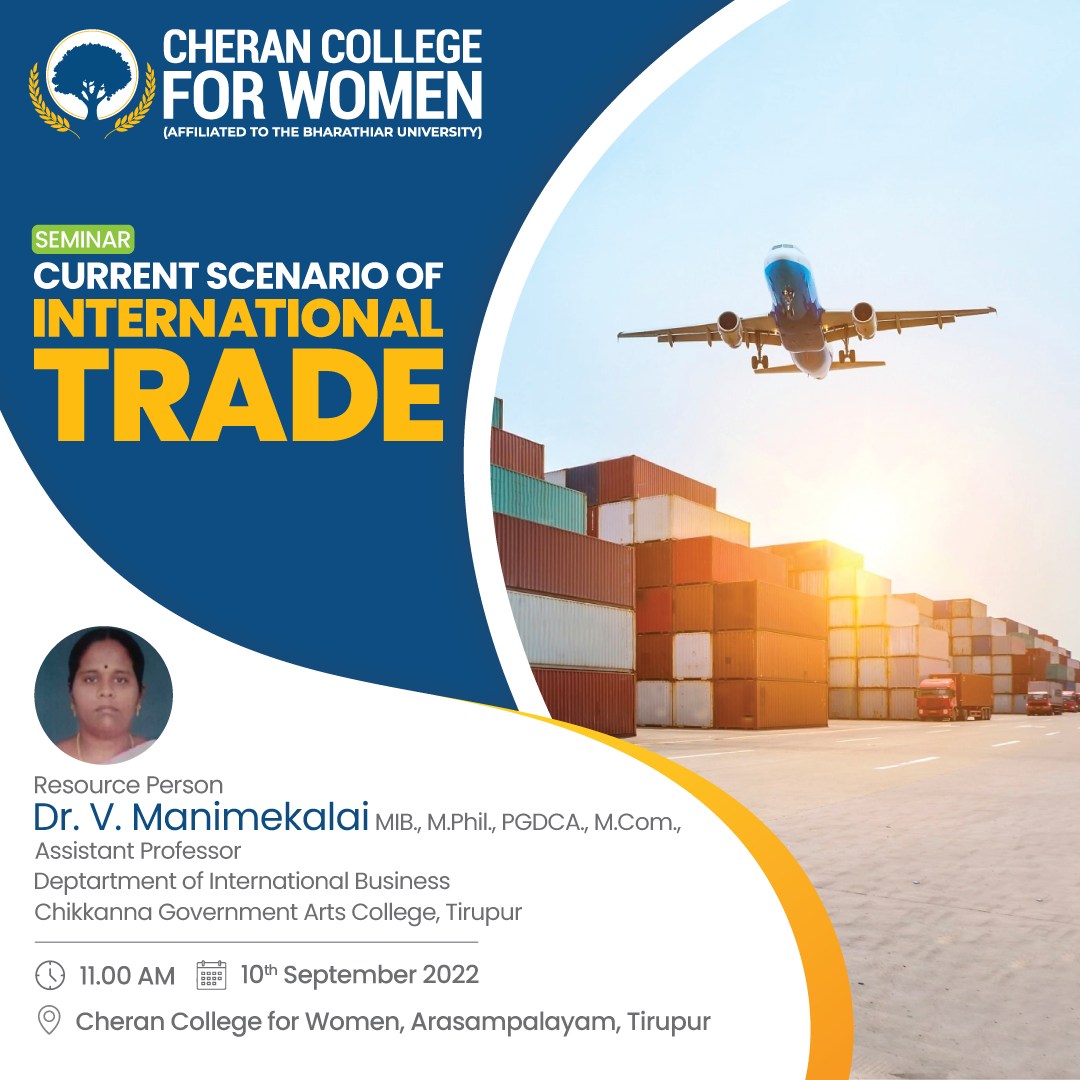 seminar on topic 'Current Scenario on International Trade
Cheran College for Women has organised a seminar on topic 'Current Scenario on International Trade' on 10th September at Cheran College for Women Campus, Tirupur.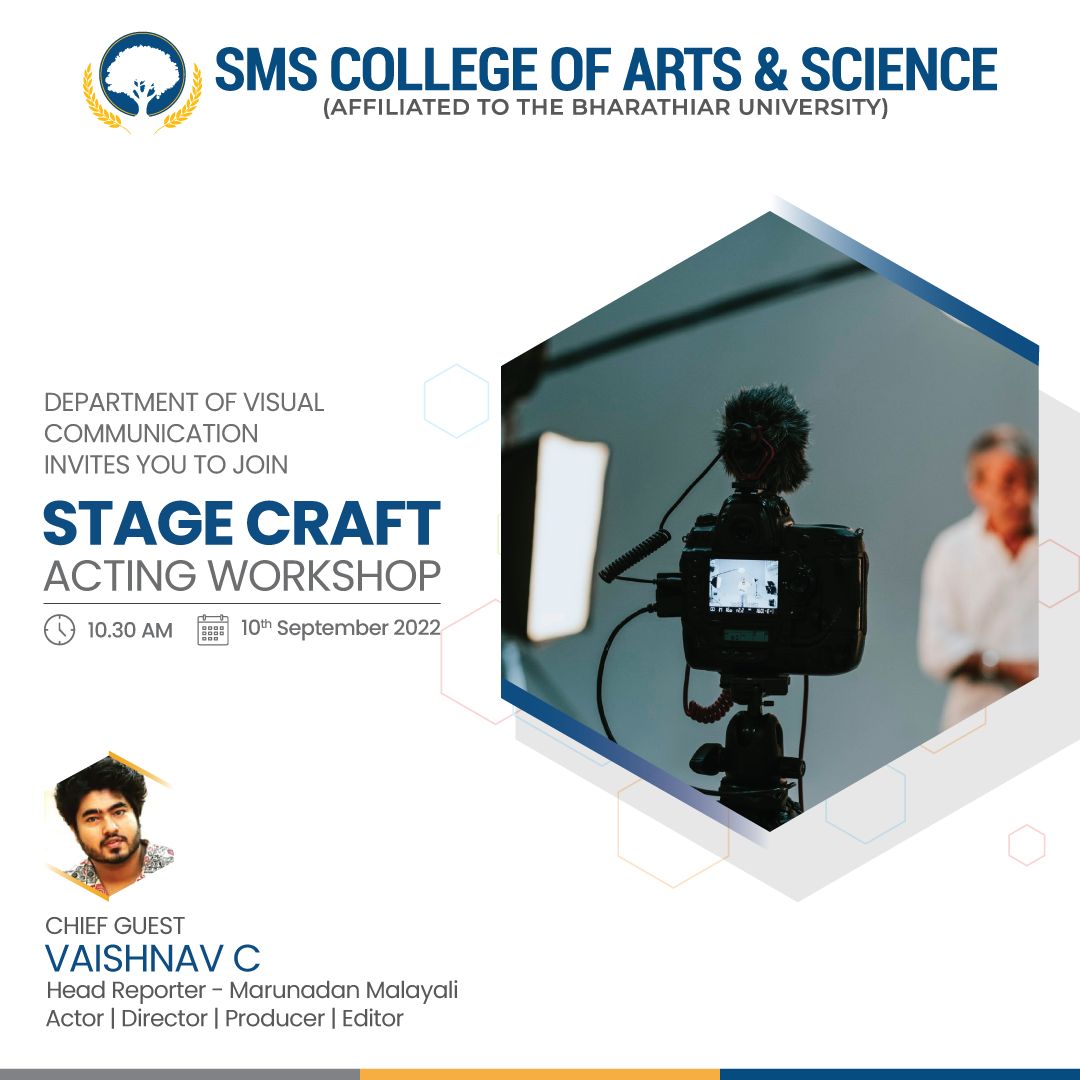 Stage Craft acting workshop
SMS College of Arts & Science, Department of Visual Communication is organising an acting workshop on 10th September 2022 and all are welcome to join us in this process of learning.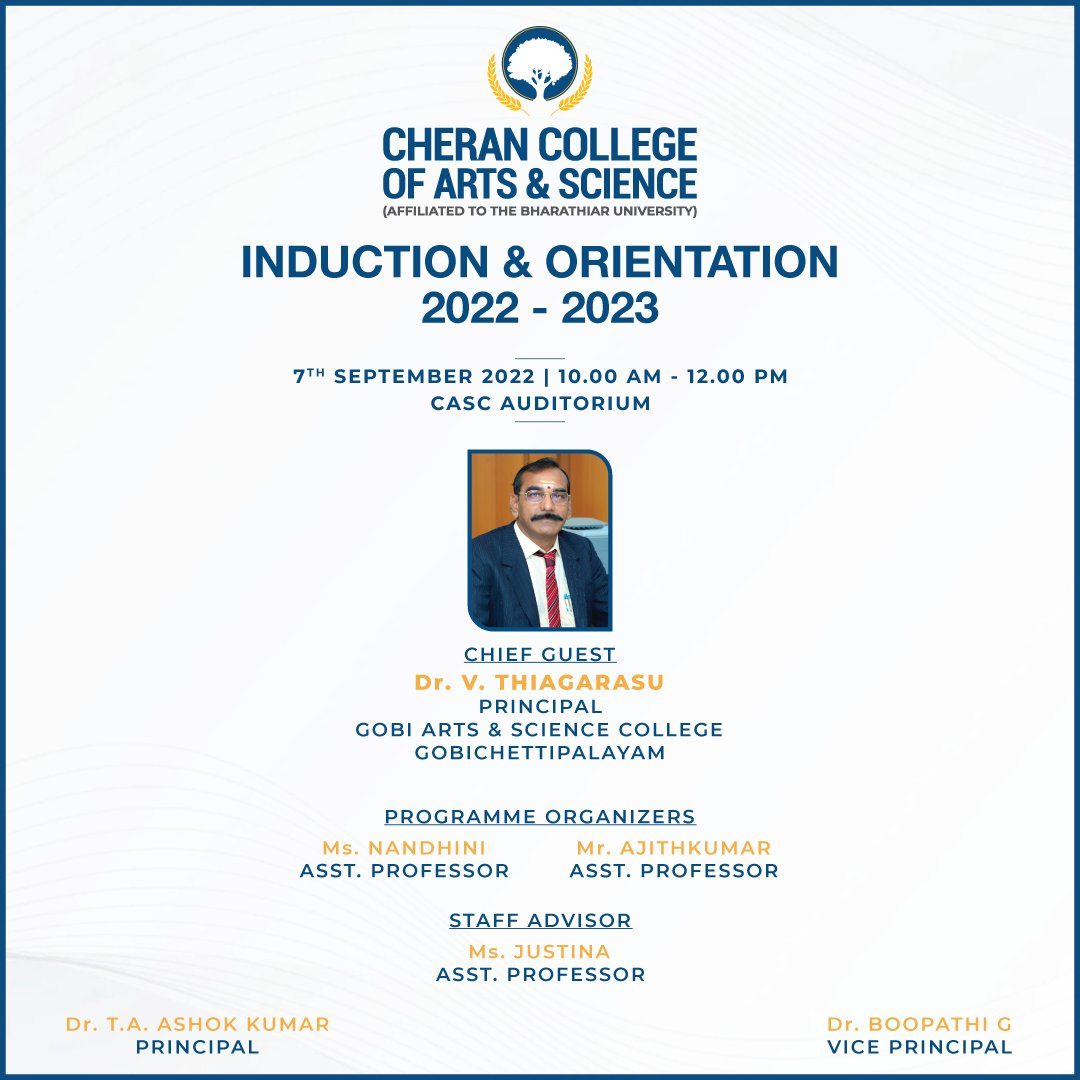 induction and orientation ceremony
Cheran Arts & Science College, Kangeyam are excited about our upcoming induction and orientation ceremony for the incoming 2022-2023 batch. The event will be held on Wednesday, 07th September 2022 from 10.00 AM - 12.00 PM at CASC Auditorium. We look forward to seeing you all there.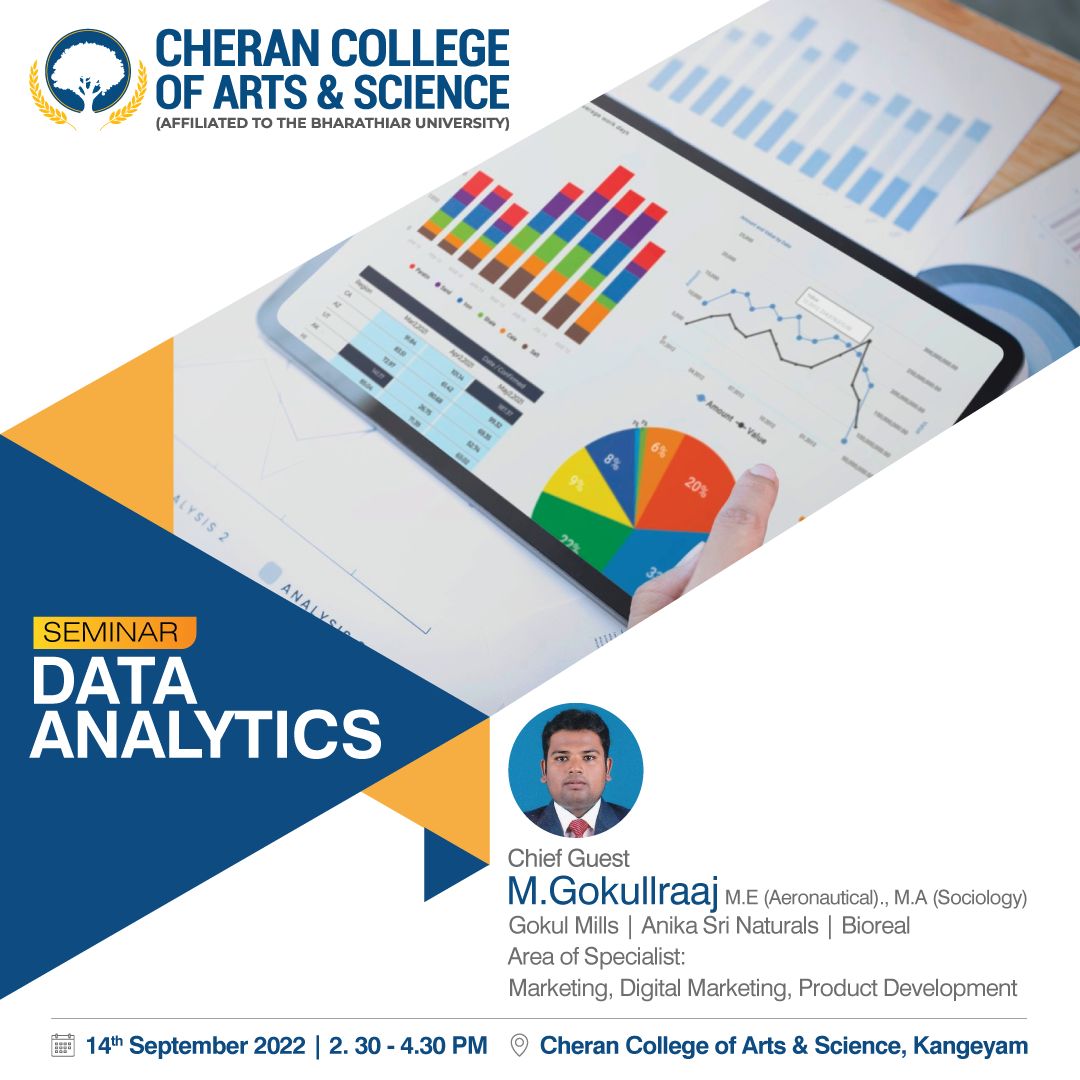 Seminar on Data Analytics
Cheran College of Arts & Science is conducting a Seminar on Data Analytics. Data analysis is a process of inspecting, cleansing, transforming, and modeling data with the goal of discovering useful information, informing conclusions, and supporting decision-making. on 14th September 2022.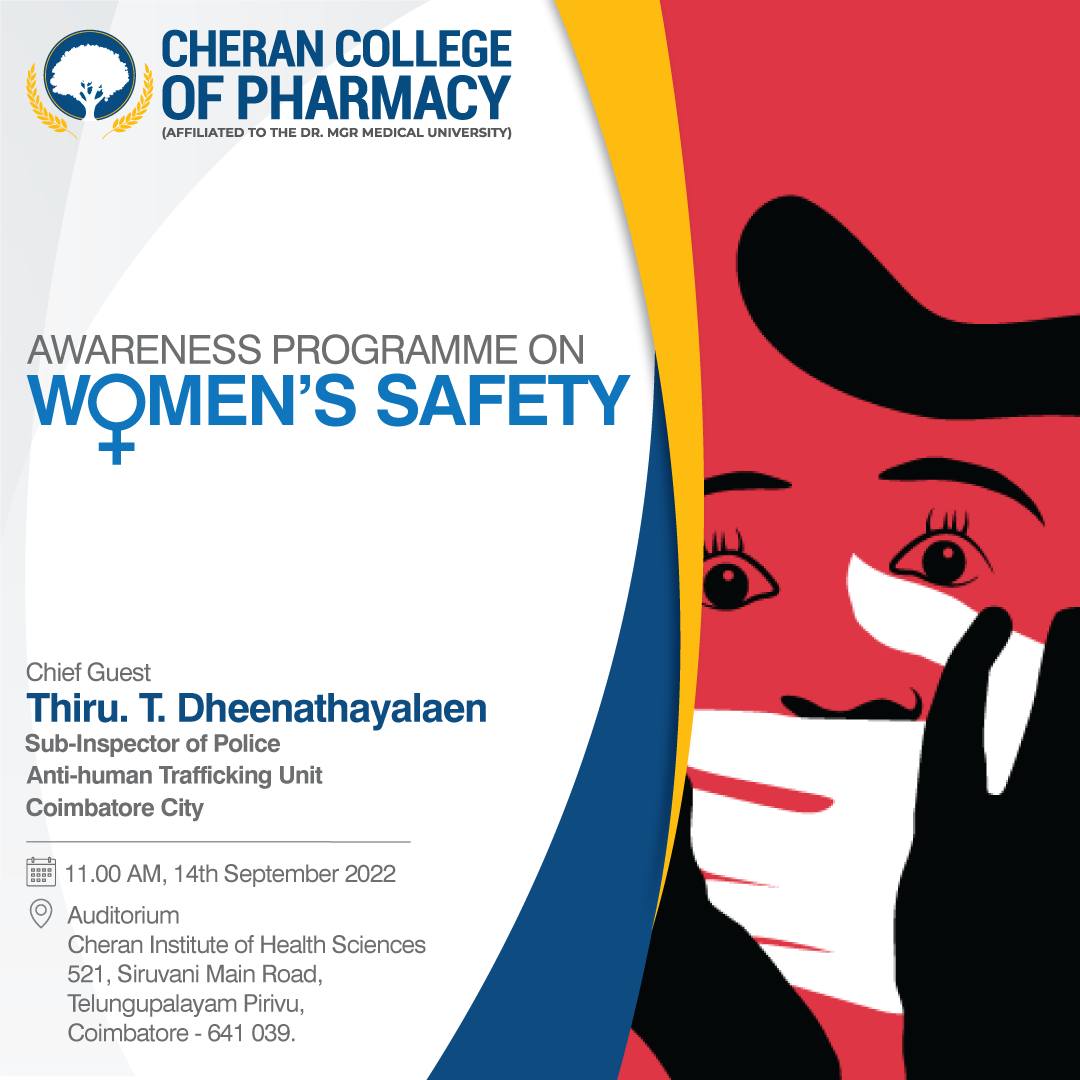 Awareness Programme on Women's Safety
Cheran College of Pharmacy will conduct an Awareness Programme on Women's Safety on 14th September 2022. The Chief Guest for the event is Thiru. T. Dheenathayalaen., Sub-Inspector of Police, Anti-Human Trafficking Unit, Coimbatore City.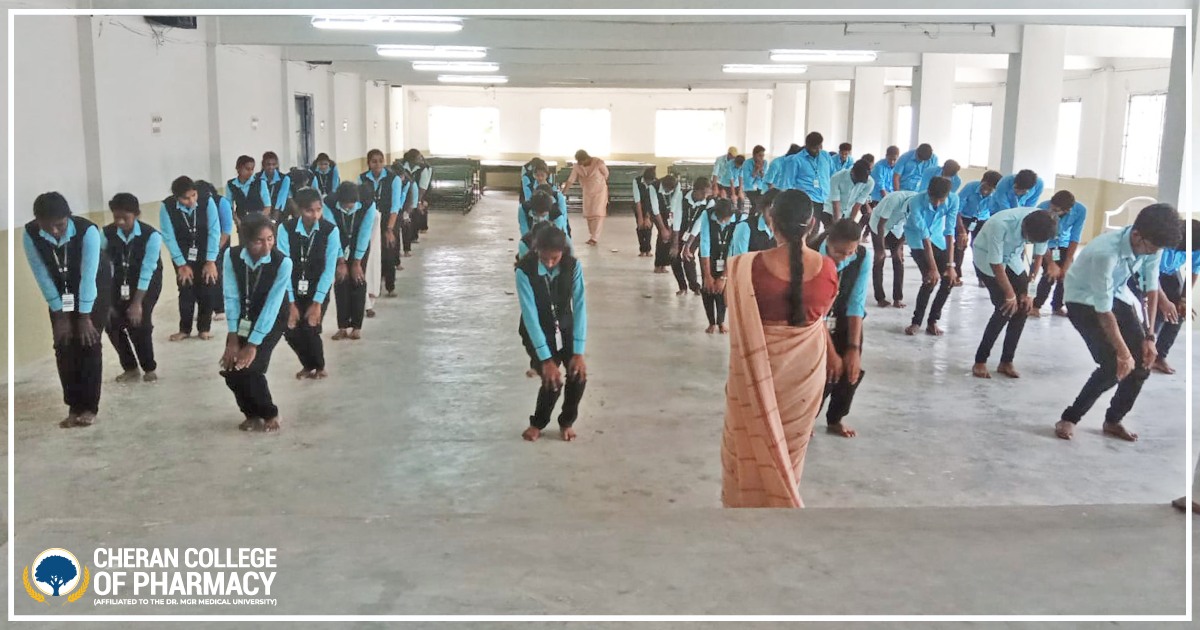 Health Awareness Programme
Cheran College of Pharmacy has organised a Health Awareness Programme on 12th September 2022, on this occasion few yoga asanas were taught to the students to live a healthy life.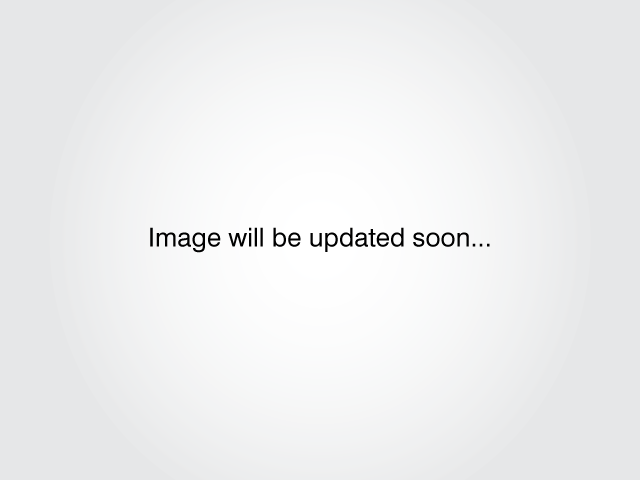 Tenderfeet's Fiesta 2022
Tenderfeet's Fiesta is a revamp of Health Center Week, and together, we should illuminate the potential of primary healthcare access for underprivileged populations across the globe and followed by Games are essential for healthy development & Sport Event. At Cheran College of Pharmacy, Tenderfeets Fiesta was inaugurated on 1st August 2022.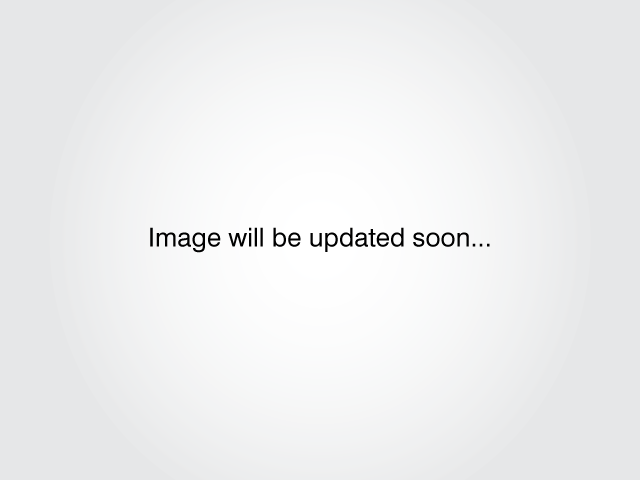 75th Independence Day Celebration
SMS College of Arts & Science celebrated the 75th Independence Day. Dr. R Balakrishnan, Vice Principal hoisted the Indian Flag and presided over the celebration.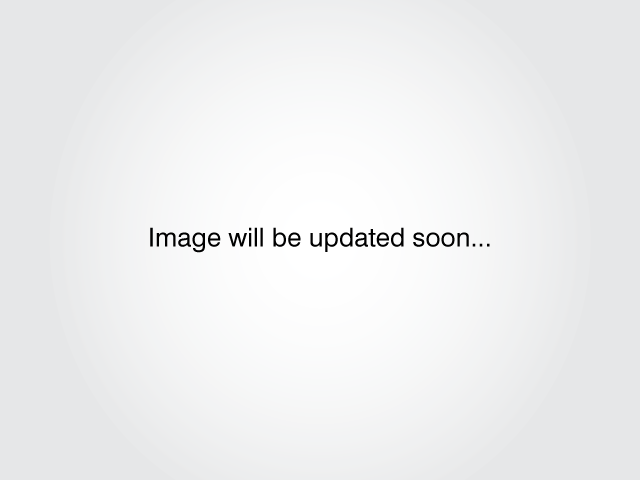 Free medical Camp
On behalf of Founder's Day 18th August 2022, Cheran College of Nursing has conducted a life-saving Free medical Camp program at Chokkampudur Community Hall with varieties of medical specialized services, more than 100 people participated and benefitted.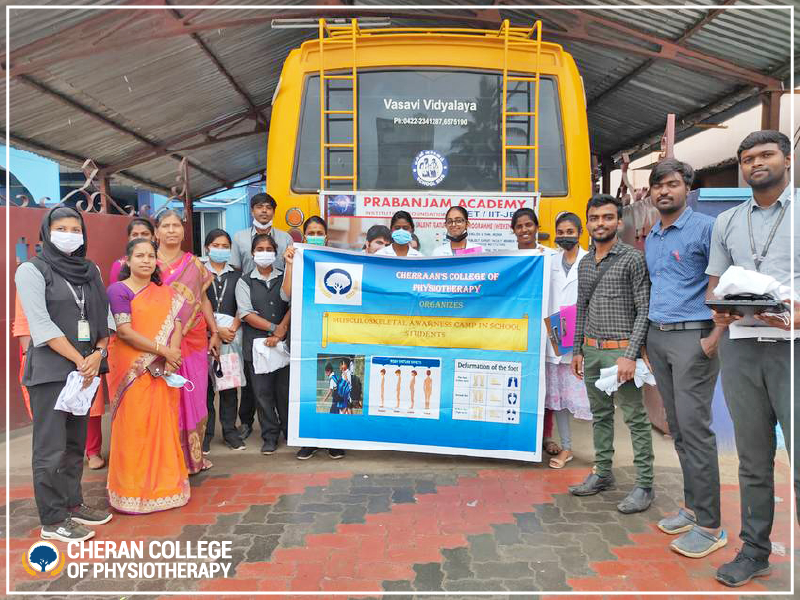 World Bone and Joint Awareness Day
Cheran College of Physiotherapy organized an awareness program at Vasavi Vidhalaya Matric Higher Secondary School, Perur, Coimbatore with active participation of our final year BPT students, interns, and faculty members on 04th August 2022 as celebrating Bone and Joint day - Stronger bones Stronger India – because we believe healthier the bones, healthier the society and stronger the nation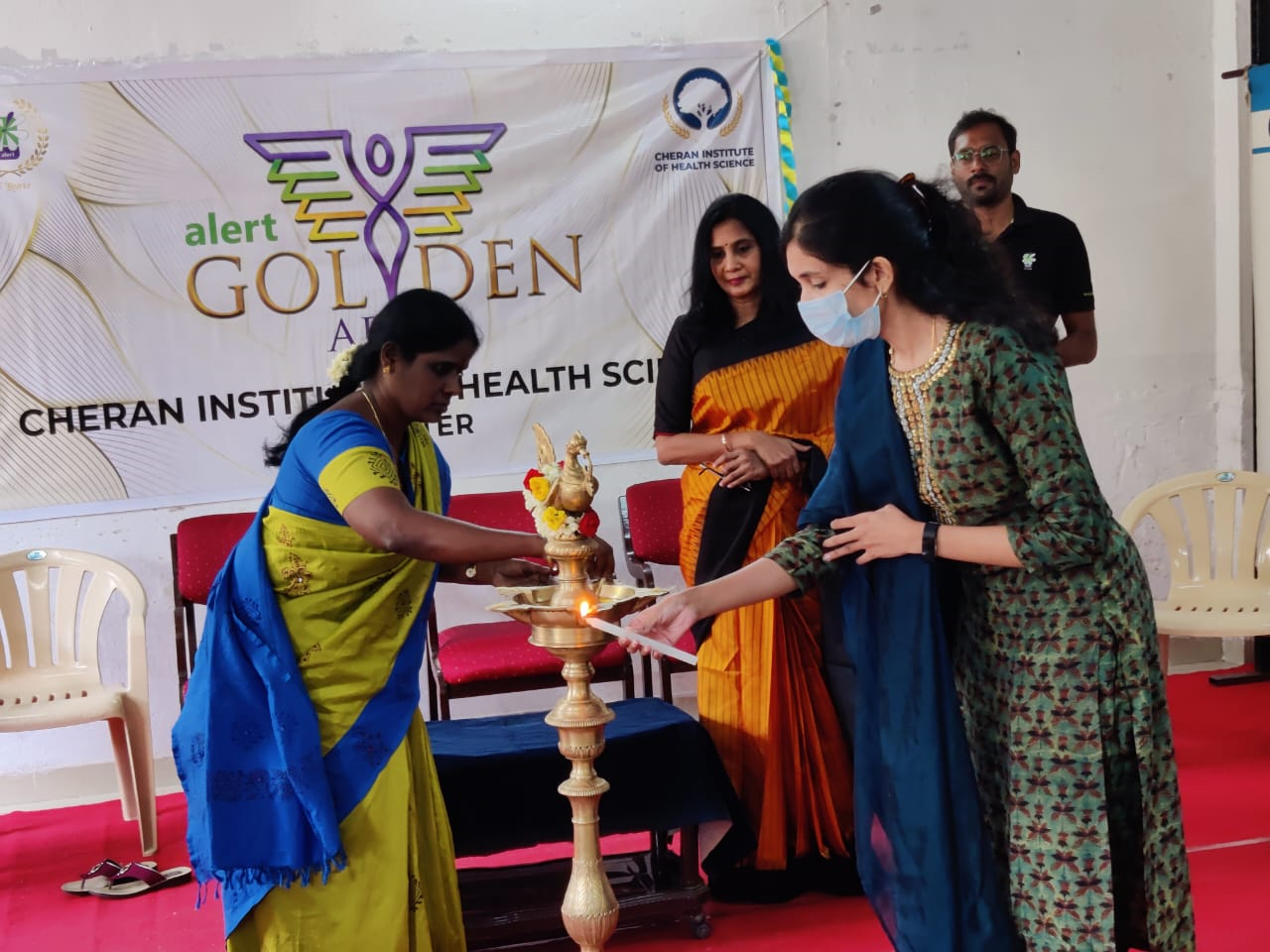 Memorandum of Understanding
This Memorandum of Understanding (MOU) is signed on 17/06/2022 between Cheran Institute of Health sciences ( CIHS) and Amenity Life line Emergency Response Team (ALERT) NGO working for empowering common man to act in case of an emergency in cardiopulmonary Resuscitation (CPR- BLS) with ALERT GOLDEN ARMY for our CIHS
( physiotherapy, Nursing, Pharmacy) students.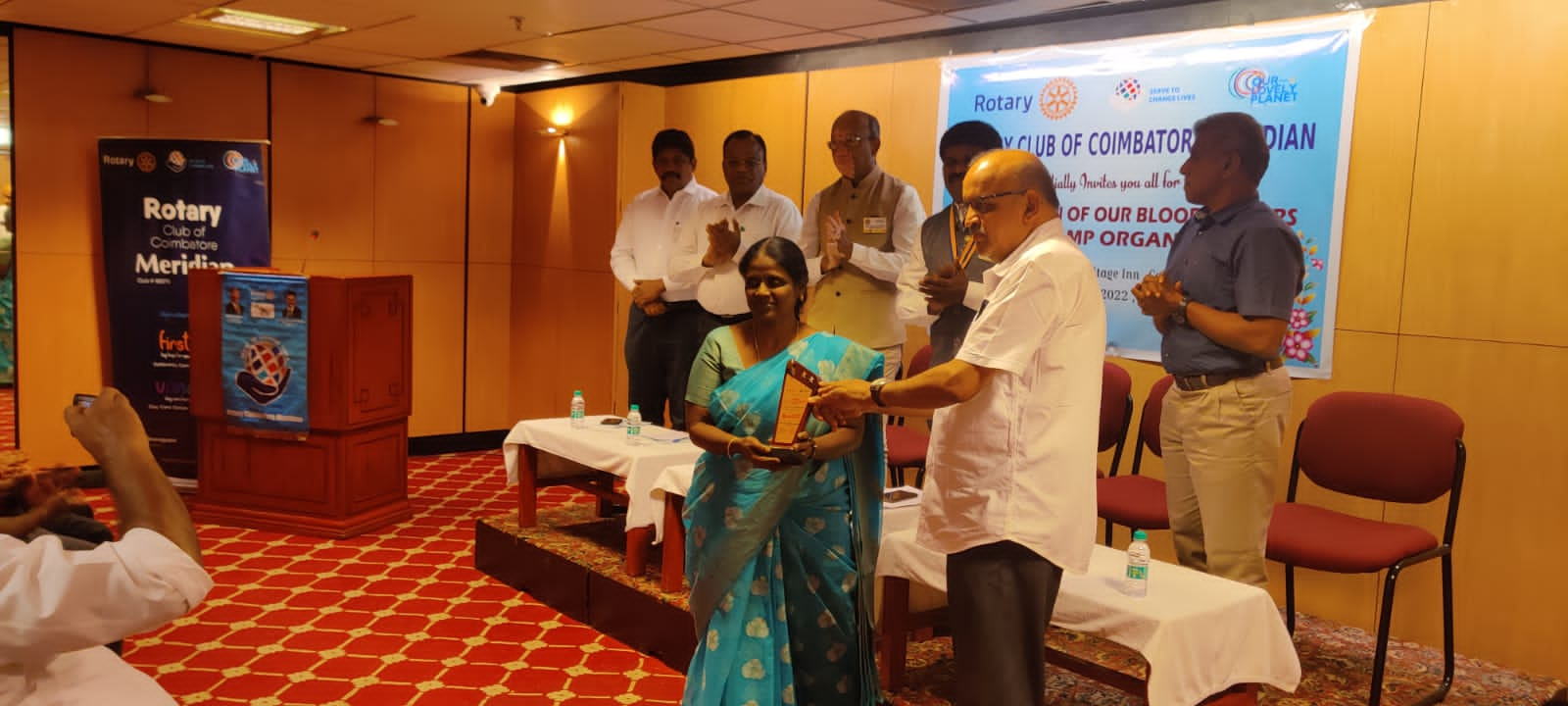 Initiation of a Blood donation
Rotary Club of Coimbatore Meridian has awarded a special award for the initiation of a Blood donation camp at the Cheran Institute of Health Science during the Covid -19 .Dr. Selvarani, Principal, Cheran College of Physiotherapy has received the award on behalf of CIHS.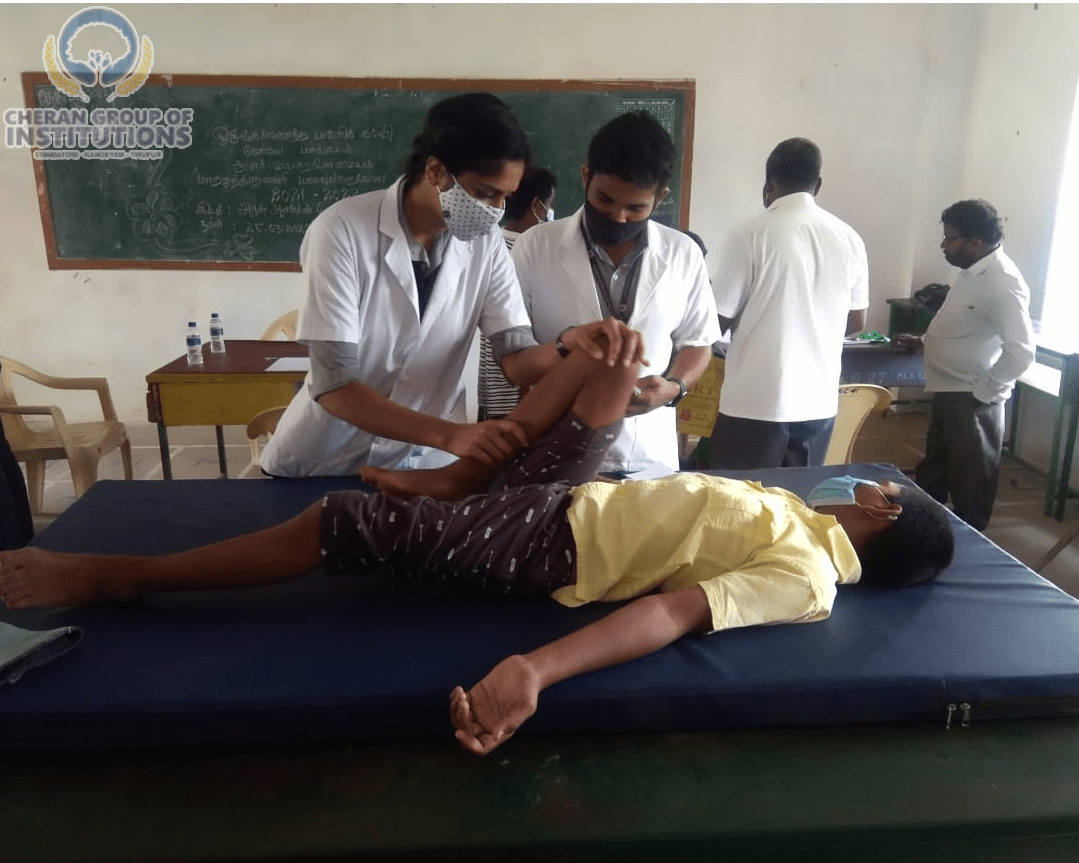 Medical camp - 2021-2022
The Medical camp for Differently Abled school children 2021-2022, was conducted in various villages of Coimbatore district by the Department of Education, Government of Tamil Nadu, and District Disabled Rehabilitation Office, Coimbatore district from 03.03.2022 to 26.03.2022.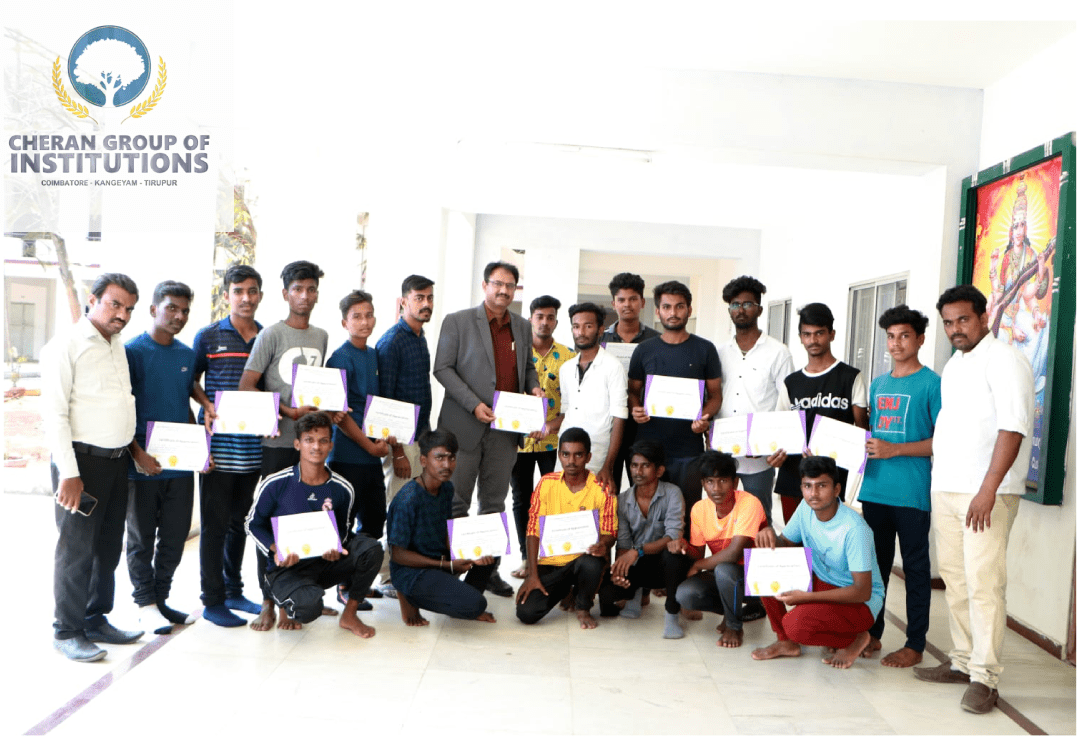 Cricket Tournment
Cheran Arts Science College, Kangeyam conducted Cricket Tournament for Higher Seconday School Students for Trippur, Erode, Karur and Coimbatore Districts. More than 20 teams participated in the cricket event. 300 students from various schools participated in the tournament an exhibited their talent.
National pharmacist day
Celebrate the "National pharmacist day" with Cheran college of pharmacy. Refresh your mind with Yoga & Meditation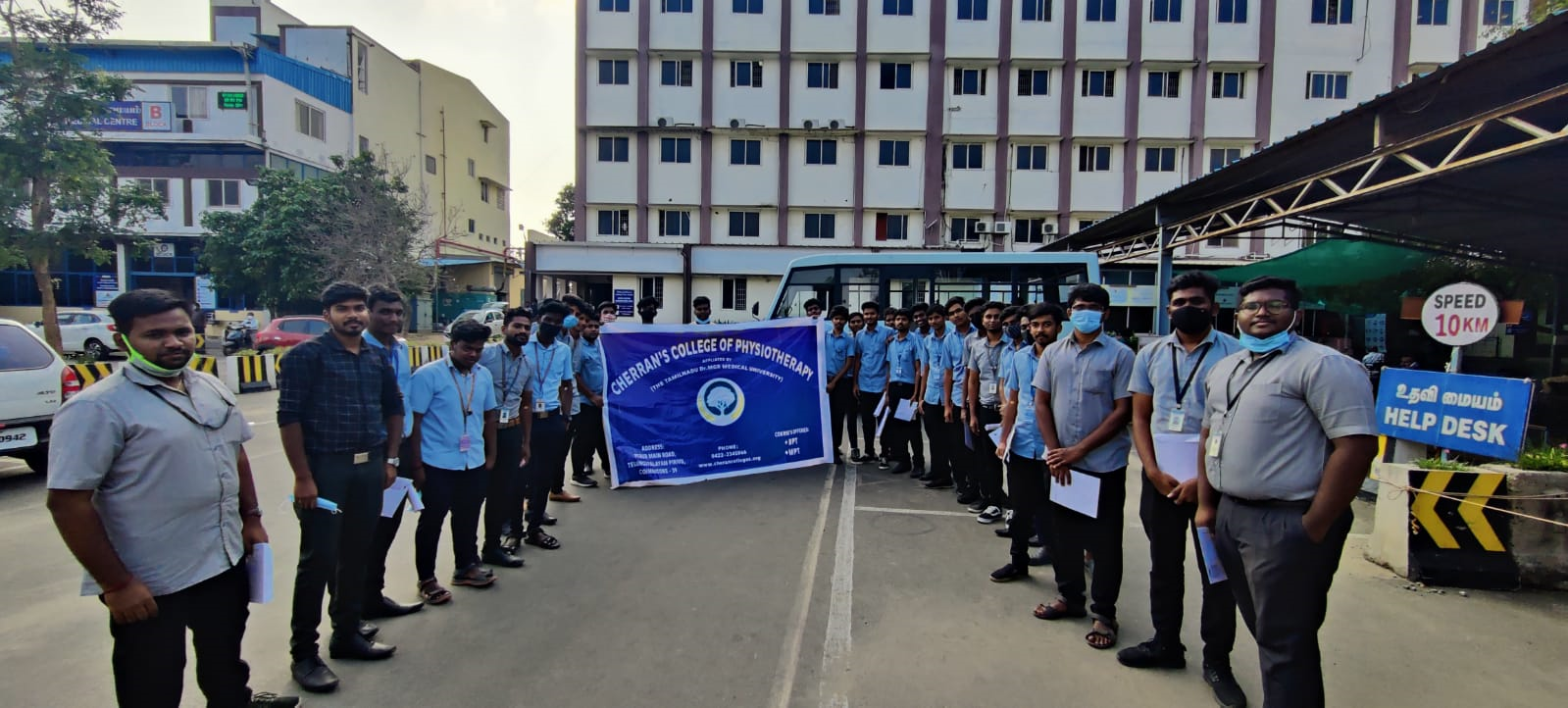 Blood Donation camp
We are happy and proud that the Blood Donation camp for our college students, a combined effort of our Cheran Group of Institutions and Shanti Social Services has been a complete success. We heartily thank our organizers and college staff who actively made this camp a huge success!.
Ethical Challenges in Research and clinical Practice
We successfully conducted a Webinar "ETHICAL CHALLENGES IN RESEARCH AND CLINICAL PRACTICE" for BPT & MPT students. This webinar helped to a piece of knowledge about the Physiotherapy career for all of our students. Once again a successful webinar by our college for our students!
Alzheimer Diseases
Cheran College of Physiotherapy has conducted an international webinar for BPT & MPT students.
60th National Pharmacy Week
As we are encountering now with COVID-19, pandemics are frightening, extraordinary and influence significantly more than simply our wellbeing and regular routines.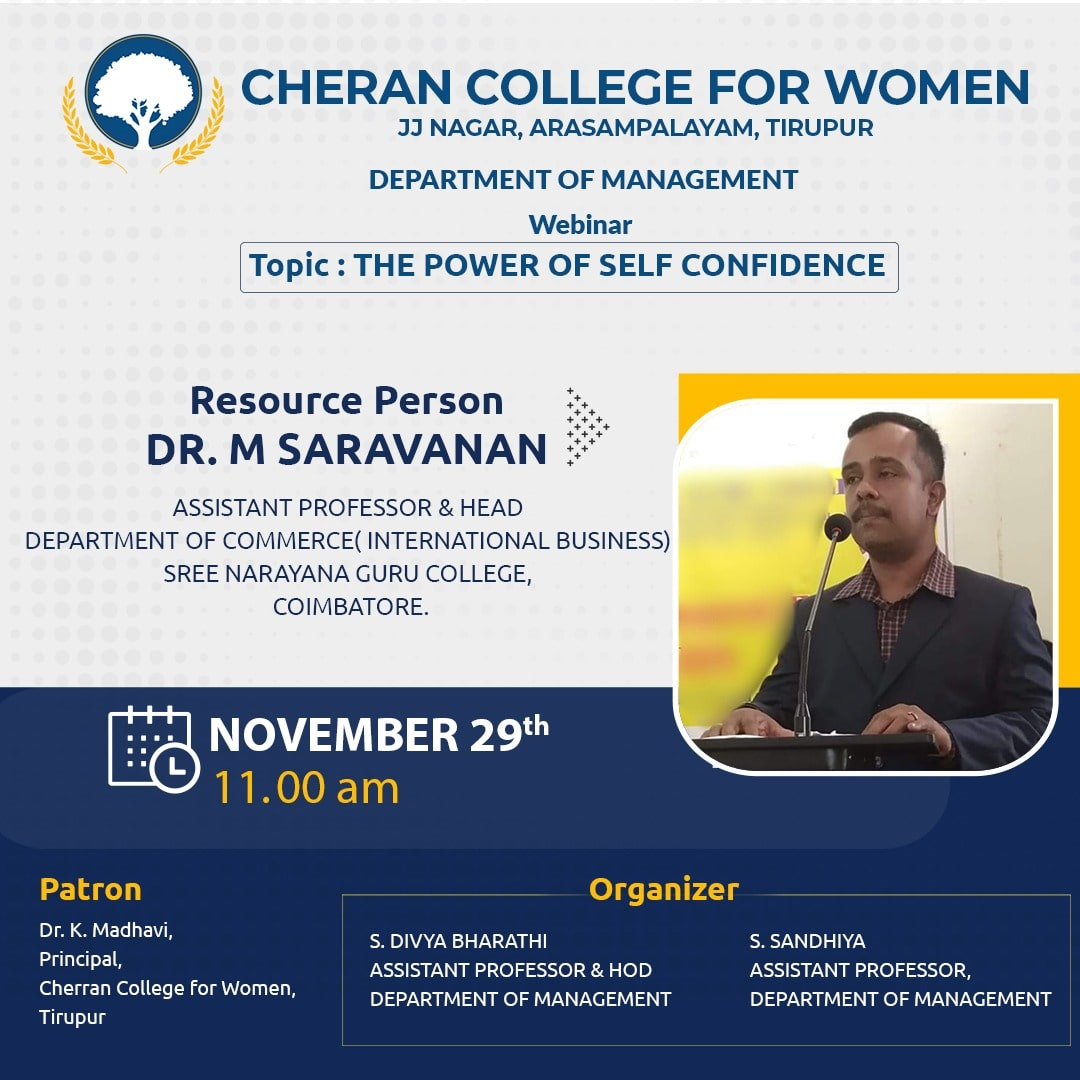 The Power of Self - Confidence
We heartily welcome you all for our Cheran College for Womens - Arts and Science College Webinar on the topic "THE POWER OF SELF - CONFIDENCE!".
Time : November 29th, 2021 | 11:00AM.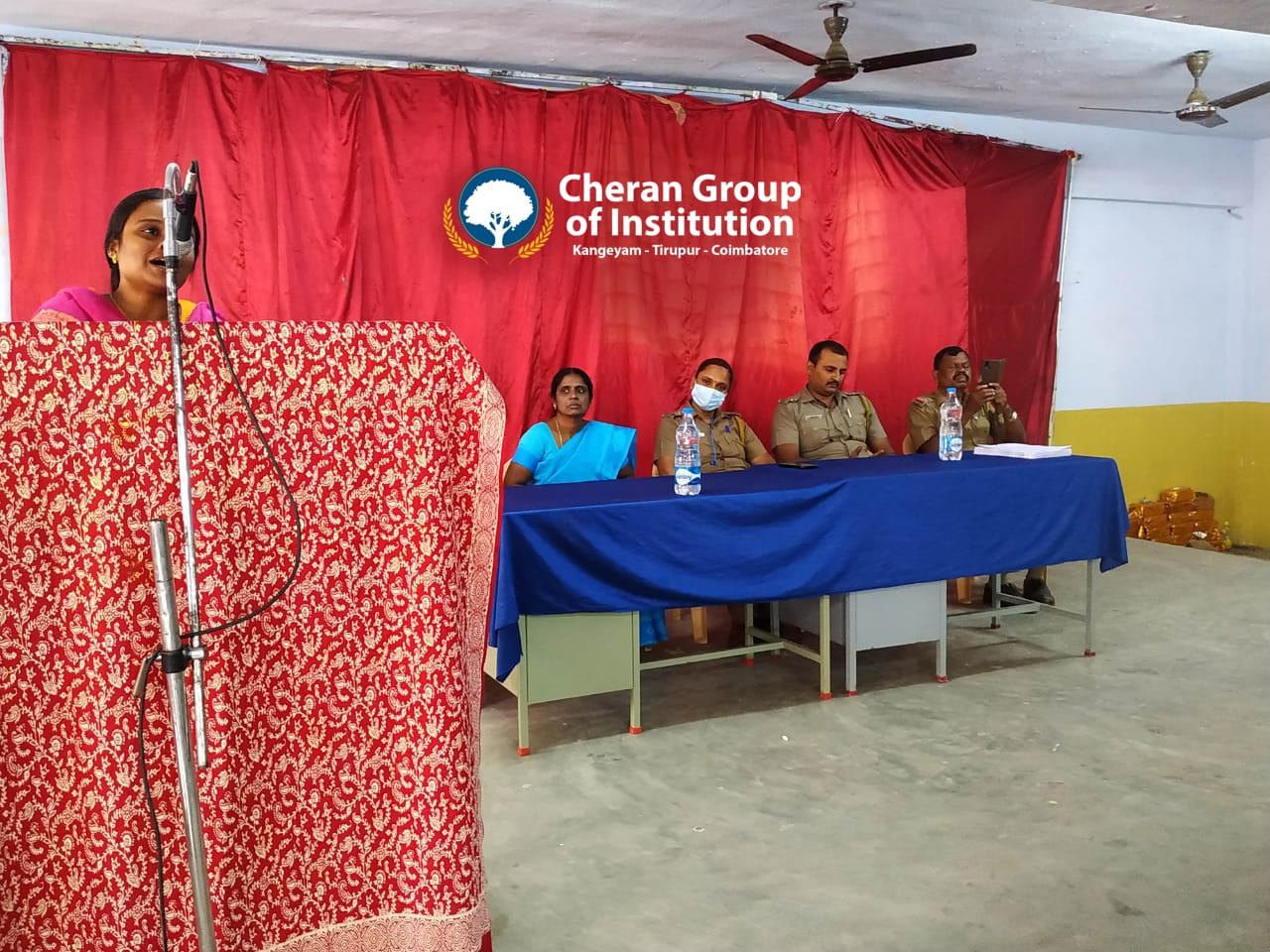 Anti Ragging Awareness
Anti-Ragging Committee will be the Supervisory and Advisory Committee in preserving a Culture of Ragging Free Environment in the college campus.
World Pharmacist Day
Celebrate the "world pharmacist day" with Cheran college of pharmacy. Refresh your mind with online quiz for all pharmacy students.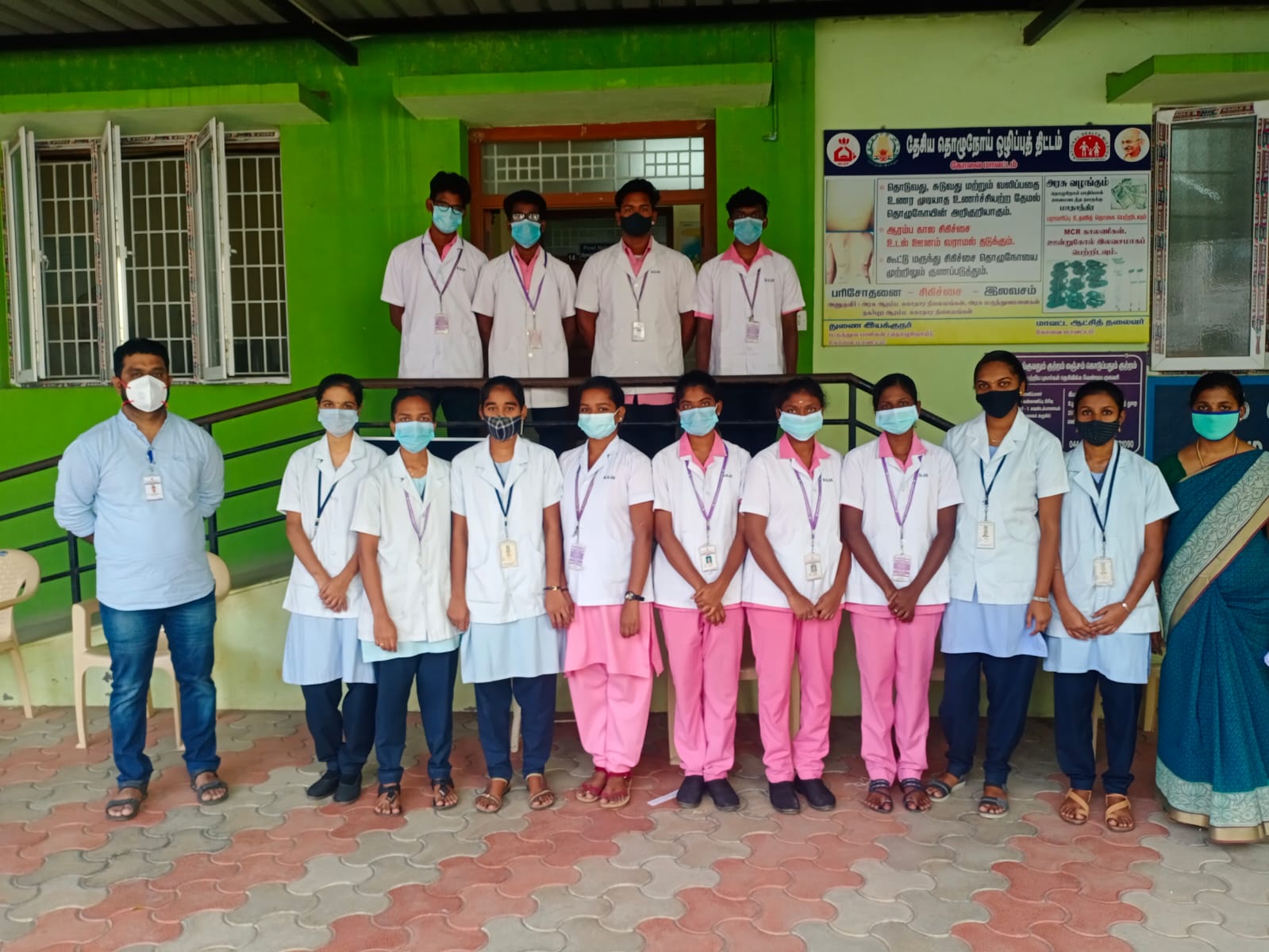 Mass Vaccine Drive
We have Participated a Mass Vaccine Drive for all the eligible people to provide them with COVID-19 vaccines. Readmore