About College
Cherraan's College of Pharmacy was established in the year 1994 under Cheran Foundation Trust, Coimbatore. The College is affiliated to the Tamilnadu Dr. MGR Medical University, Chennai and recognized by Pharmacy Council of India. The College offers both Bachelors of Pharmacy as well as Master of Pharmacy.
The college acknowledges the growth in pharmaceutical industries, and aim to provide the students with all the knowledge and infrastructures needed to achieve the goals in the Pharmacy profession.
Mission
To generate new knowledge by engaging students in outstanding and innovative research; to promote academic growth by offering excellent professional education and state-of-the-art facilities, and to produce pharmacists who are independent and are dedicated to providing a better quality of life.
Vision
To contribute the Indian Society and the World through excellence in Professional, Scientific and technical education, to serve as a valuable resource for industry and society and to remain as a source of pride for all Indians.
Facilities
The College has state-of-the-art facilities, well- equipped Library, Computer Centre with dedicated Internet Facilities, Laboratories, Amenity Facilities like Canteen and many more facilities like separate common rooms for boys and girls, public conveniences, recreation rooms etc.
Library
The College has a very rich, modern, well-equipped library having about 3,000 volumes of books, in the area of Pharmacy. In addition, a large number of Technical Journals, Magazines, Corporate Annual Reports, and Newspapers are subscribed to keep the knowledge of students up to date.
The College runs a Book Bank facility for the students who can borrow books from the Book Bank for the whole academic year according to the rules framed for this purpose.
Computer Center
The College has a well-equipped computer lab, all equipped with the latest technology computer and latest software. All computers are (Dual Core/Pentium) connected to the internet. All the machines are connected to Local Area Network (LAN) environment. The Computer Center is equipped with latest operating systems like Window XP/2007, 2008 etc.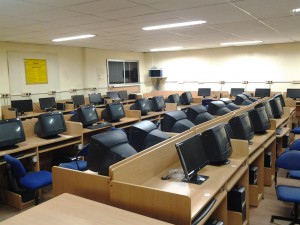 Animal House
The maintenance condition of our animal house has gained it the status of 'Standard Animal House' which has Students carry out their research projects using our animal house facilities. Experiments on mice, rats, rabbits and guinea pigs are routinely carried out with a prior approval from the Institutional Animal Ethics Committee (IAEC). The Committee comprises of eminent scientists and veterinarians along with a nominated member from of CCP.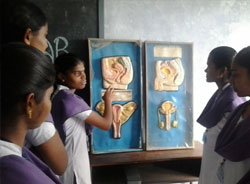 About Our Principal
Dr. K. Prabhu
The Principal of Cherraans College of Pharmacy, Coimbatore.
Name of Principal

 Dr. K. Prabhu

Designation

 Principal

Department

 Pharmacognocy

Date of Joining the Institute

 22 / 02/ 2019

Qualification with Class/Grade

  PG:  M.Pharm

  (Pharmacognocy)

   Ph.D

    Pharmacognocy
Details of Teaching Pharmacy Faculty
Name

Designation

Department

Qualification

Dr. B. Geetha

Vice Principal

Pharm.Chemistry

M.Pharm, Ph.D

Dr. S. Vijayalakshmi

Professor

Pharm.Cognosy

M.Pharm, Ph.D

Dr. R. Kumanan

Professor

Phyto Pharm & Phyto Medicine

M.Pharm, Ph.D

Dr. T. Tamilselvan

Professor

Pharmacy Practice

M.Pharm, Ph.D

Dr. R. Sathiyasundar

Professor

Pharmaceutical Analysis

M.Pharm., Ph.D

Dr. R. Ramajayam

Professor

Pharmaceutical Chemistry

M.Pharm, Ph.D

Dr. C.Velmurugan

Professor

Pharmacology

M.Pharm., Ph.D

Dr. R. Sivakumar

Professor

Pharmaceutics

M.Pharm., Ph.D.,

Mr. K. Ponnudurai

Professor

Pharmacology

M.Pharm.,Ph.D

Mr. J. Karthikeyan

Professor

Pharmaceutics

M.Pharm., (Ph.D)

Mrs. M. Sangeetha


Assistant Professor

 Pharmaceutical chemistry

M.Pharm

Mrs. C. Rubina Reichal

Professor

Pharmaceutics

M.Pharm., (Ph.D)

Mr. S. Daniel Cephas

 


Assistant Professor

Pharmaceutical Analysis

M.Pharm.,

Mrs. N. Sivasakthi


Assistant Professor

Pharmceutical Chemistry

M.Pharm.,

Mr. S. Stanley Baskar


Assistant Professor

Pharmcy Practice

M.Pharm.,

Mrs. N. Venkata Sujatha


Assistant Professor

Pharmaceutical biotechnology

M.Pharm.,

Mrs. C. Esther Menaka Princess


Assistant Professor

Pharmacology

M.Pharm.,

Mr. E. Rajesh Jesudasan


Assistant Professor

Pharmaceutical biotechnology

M.Pharm.,

Mrs. M.  Fathima Bhaseera


Assistant Professor

Pharmcy Practice

M.Pharm.,

M. Tharani


Assistant Professor

Pharmacology

M.Pharm.,

Mr. R. Parthibarajan


Assistant Professor

Pharmaceutics

M.Pharm.,

Mr. M. Immanuel Jebastine


Assistant Professor

Pharmcy Practice

M.Pharm.,

Dr. Lita Susan Thomas


Assistant Professor

 

Pharm.D

Ms. S. Manju


Assistant Professor

Pharmaceutics

M.Pharm.,

Mrs. M.Shobana


Assistant Professor

Pharmaceutics

M.Pharm.,

Mrs. C. Ushadevi


Assistant Professor

Pharmaceutics

M.Pharm.,

Mr. S. Ravindaran


Assistant Professor

Pharmacology

M.Pharm.,

Mr. S. Pandian


Professor

Pharmaceutical Chemistry

M.Pharm., (Ph.D)

Mrs. J. Kavitha


Assistant Professor

Pharmaceutical Chemistry

M.Pharm.

Mrs.A. Jasmine Fathima


Assistant Professor

 

Pharm.D

Mr. Ramesh Gunti


Assistant Professor

Pharmacology

M.Pharm., (Ph.D)

Mr. R. Bhavani Shankar


Assistant Professor

Biochemistry

MSc

Mr.S.Rajagopal

Assistant Professor

Pharmaceutical Analysis

M.Pharm

Mr. A. Elancheran


Assistant Professor

Quality Assurance

M.Pharm.

Mr. P. Saminathan


Assistant Professor

Pharmaceutics

M.Pharm.

Mr. L. Nandhakumar


Assistant Professor

 

M.Pharm., Ph.D

Dr. Teena Thomas


Assistant Professor

 

Pharm.D

Mrs. M.Tryphena


Assistant Professor

 

Quality assurance

M.Pharm

Mr. P Selvapathi

Lecturer

 

ME (CS)

Mr. Santhoshkumar


Lecturer

 

MSc Biotech

Mrs.K.EvangelinJeba


Lecturer

 

M.Sc, M.Phil (Maths)

Mrs. k. Surya prabha


Lecturer

 

M.Sc  M.Phil(CS)
HEAD OF NON TEACHING  FACULTY
| | | |
| --- | --- | --- |
| Name | Qualification | Designation |
| Ms .Flora    | MBA    | Administrative Oficer |
| Mr. Shanmuga sundaram    |   | Accounts Officer |
| Mrs. Swarnalatha        |   | Accountant |
| Ms. Janani                  |   | Accountant |
Non-Teaching Faculty
| | | |
| --- | --- | --- |
| Name | Qualification | Designation |
| Mrs. K. Sumitha | BSc | Lab Technician |
| Mrs. R. Saranya | BSc | Lab Technician |
| Mrs. S. Vimala | 10th | Lab Attender |
| Ms. K. Abinayavalli | B.Com | Lab Technician |
| Ms. M. Pavithra | MSc | Lab Attender |
| Mrs. M. Geetha | 10th | Lab Technician |
| Mrs. Kayalvizhi | B.Com | Lab Technician |
| Mrs. Devi | B.Com | Lab Technician |